ATTENTION
TALK PAGES ARE NO LONGER USED
To discuss article changes, please use:
If you see comments on this page, they remain for archive purposes.
NEWLY ADDED COMMENTS WILL BE REMOVED
Other goofs
Where do we put goofs for other shows, such as The Wubbulous World of Dr. Seuss, for example? Asking because in in this video, at 0:33, someone's hand can be seen operating Little Cat A's broom. ---- Jesse (talk) 19:08, December 5, 2009 (UTC)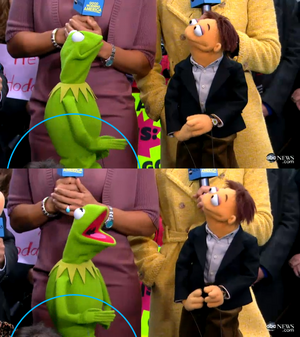 I don't know, but we've collected a couple of goofs now, that don't fit either of our pages in this category. Maybe we could just add some kind of an "Odds and Ends" page to collect these? Or park them here, I guess.
I've got one from today's Good Morning America appearance: The camera folks use a crappy frame, and so Eric has to quickly duck several times. Steve and Peter have to lower Kermit and Walter in order to hide their sleeves. It kept happening more than once, as the cameras changed; poor guys! — Julian (talk) 22:55, March 13, 2012 (UTC)
Fantastic Miss Piggy Show goof
Again, not a Muppet Show or Muppet movie goof, but a goof nonetheless. Whenever we're making a page for "other productions," the Muppets TV one, and this one from The Fantastic Miss Piggy Show could go in there... — Julian (talk) 22:35, January 23, 2011 (UTC)
Muppets TV Goof
I found a goof on Muppets TV (Piggy's performer's hand is showing as she pushes Adriana Karembeu away to lock her up).
But since I've only got this one episode, I doubt that we'll get enough goofs together to warrant a "Muppets TV Goofs" page anytime soon. Any thoughts?
Otherwise I'll just park the image here and hope that I'll remember to do something with it one day. — Julian (talk) 20:00, February 7, 2010 (UTC)
PS: Though, given that they allowed Fozzie's sleeve and bottom opening to show during the opening sequence, I'm sure there's a plethora of goofs to be found on this show... — Julian (talk) 20:09, February 7, 2010 (UTC)
Technically, it is a "Muppet Show" goof. Maybe you could start a section on the page called "International Muppet Show Goofs". --Rankin Fraggle (talk) 00:21, February 11, 2010 (UTC)
No, it's not a Muppet Show goof. Perhaps we park it on the Muppets TV page for now until there's more. Or here is good too. —Scott (talk) 18:50, February 15, 2010 (UTC)
Ad blocker interference detected!
Wikia is a free-to-use site that makes money from advertising. We have a modified experience for viewers using ad blockers

Wikia is not accessible if you've made further modifications. Remove the custom ad blocker rule(s) and the page will load as expected.