ATTENTION
TALK PAGES ARE NO LONGER USED
To discuss article changes, please use:
If you see comments on this page, they remain for archive purposes.
NEWLY ADDED COMMENTS WILL BE REMOVED
Bill Nye Muppet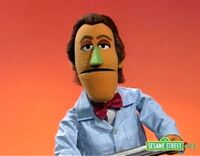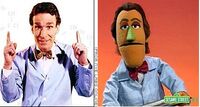 No? -- MuppetDude 17:37, 10 October 2008 (UTC)
Bert Shalit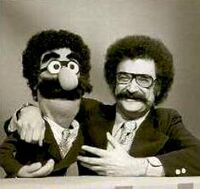 If someone doesn't mind fixing this photo, I have the elusive Gene Shalit caricature (AKA Bert dressed as him..does that count?)Scooter 07:18, 5 February 2006 (UTC)
More Sesame Caricatures?
The Sesame Workhop site has a "Parody Descriptions] page, which lists two segments which may have relevance to this category, though lacking a reliable PBS signal right now, I'm hardpressed to verify either myself: "Chasing the Cheese" "A parody of ESPN's sportscaster Chris Berman. A Chris Berman Muppet is the commentator for the annual Sesame Street Chasing the Cheese event. Exercise is discussed as being healthy and fun as we watch the contestants, Telly Monster, Baby Bear, Elmo and Zoe chase the cheese.
And this segment: "24" A parody of the show "24." The Count prepares to watch his favorite television program "24," which takes place in 24 seconds and he gets to count each second. We see a Keifer Sutherland Muppet hanging from a cliff in split-screen format (in the style of the actual television program "24.") With each passing second, the suspense builds and at the end of the 24 seconds he falls a few inches and walks off.
I'm not sure if the latter would count as a caricature or a spoof (likely the latter), or to what extent either are accurate caricatures or, like Dr. Feel, just a careful tailoring of an Anything Muppet. --Andrew, Aleal 01:22, 6 February 2006 (UTC)
Ad blocker interference detected!
Wikia is a free-to-use site that makes money from advertising. We have a modified experience for viewers using ad blockers

Wikia is not accessible if you've made further modifications. Remove the custom ad blocker rule(s) and the page will load as expected.