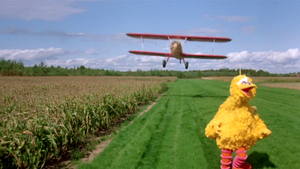 Cary Grant (1905-1986), birth name Archie Leach, was an English-born actor who became one of the leading Hollywood stars and romantic idols from the 1930s until his retirement in the 1960s. His films ranged from screwball comedies (Bringing Up Baby, His Girl Friday) to Hitchcock films (Notorious, To Catch a Thief, and most famously North by Northwest).
References
The 1986 film Follow That Bird includes a scene in which Big Bird spoof's Grant's famous plane chase scene from Hitchcock's North by Northwest.
Richard Nugent (Grant): Hey, you remind me of a man.
Susan Turner (Temple): What man?
Richard: Man with the power.
Susan: What power?
Richard: Power of hoodoo.
Susan: Hoodoo?
Richard: You do.
Susan Turner: Do what?
Richard Nugent: Remind me of a man...
External links
Ad blocker interference detected!
Wikia is a free-to-use site that makes money from advertising. We have a modified experience for viewers using ad blockers

Wikia is not accessible if you've made further modifications. Remove the custom ad blocker rule(s) and the page will load as expected.