Carter
Talk

0
27,141pages on
this wiki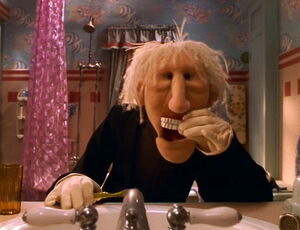 Carter is Howard Tubman's elderly, doddering butler seen in "The Tubmans of Porksmith" and "Boarshead Revisited" sketches on Muppets Tonight. Carter also appeared in Muppets from Space, as a resident of the Muppet Boarding House. He also makes a cameo appearance in Muppets Most Wanted.
The puppet was later recycled as Faversham, Miss Piggy's butler, in an appearance on Donna's Day. The puppet's design appears to have be a reworked from an old lady puppet that was used as part of Geri and the Atrics on The Muppet Show.
An illustrated version of the character made a brief cameo in issue #4 of Muppet Snow White. He also appears on Howard Tubman's page in The Muppets Character Encyclopedia.