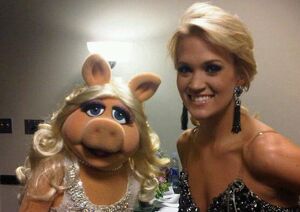 Carrie Underwood (b. 1983) is an American Country Music singer. The winner of the fourth season of American Idol, Underwood has gone on to become a multi-platinum Grammy Award-winning recording artist.
She recorded the voice for Carrie Underworm on Sesame Street in 2009. In 2011, she appeared with Brad Paisley and Miss Piggy in a commercial for the CMA Awards in 2011, and in the never-ending version of "Mahna Mahna" on Facebook.
External links
Ad blocker interference detected!
Wikia is a free-to-use site that makes money from advertising. We have a modified experience for viewers using ad blockers

Wikia is not accessible if you've made further modifications. Remove the custom ad blocker rule(s) and the page will load as expected.