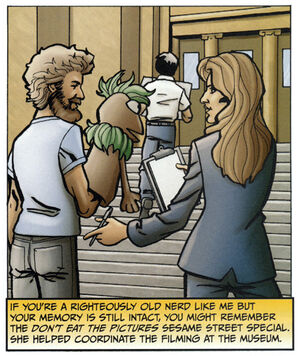 Caroline Kennedy (b. 1957) is an attorney, writer, and editor and serves on the boards of numerous non-profit organizations. In 2008, she was considered to fill Hillary Clinton's vacant Senate seat, but withdrew from consideration. She is the daughter of U.S. President John F. Kennedy, and the niece of Ethel Kennedy.
During the 1980s, Kennedy worked as a research assistant in the film and television department of the Metropolitan Museum of Art in New York. In this role, she served as Coordinating Producer for Don't Eat the Pictures. She also has a cameo at the end of the special as a patron of the museum, arriving in the morning as the main characters are leaving.
A 2009 comic book published by Blue Water Comics, written by Neal Bailey, profiles Kennedy's life and career. One panel features Ryan Howe's artistic interpretation of Jim Henson and Kermit the Frog. Another panel at the end features author Neal Bailey addressing the reader while holding a Fozzie Bear doll, "Heck, she met the Muppets! How cool is that?"
Ad blocker interference detected!
Wikia is a free-to-use site that makes money from advertising. We have a modified experience for viewers using ad blockers

Wikia is not accessible if you've made further modifications. Remove the custom ad blocker rule(s) and the page will load as expected.