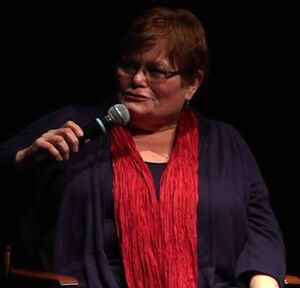 Carol Spier is a Canadian production designer who, earlier in her career, also worked as a costume designer, including several Muppet films and specials, starting with The Great Muppet Caper. She was also art director on Follow That Bird.
Spier has been a frequent collaborator of director David Cronenberg, serving as art director or production designer on over a dozen films, including Scanners, The Fly, Dead Ringers, The History of Violence, and Pacific Rim. She was also art director for the 1985 TV miniseries Anne of Green Gables. Other credits as production designer include The Santa Clause, Canadian Bacon (with John Candy), and Blade II.
Muppet credits
External links
Ad blocker interference detected!
Wikia is a free-to-use site that makes money from advertising. We have a modified experience for viewers using ad blockers

Wikia is not accessible if you've made further modifications. Remove the custom ad blocker rule(s) and the page will load as expected.