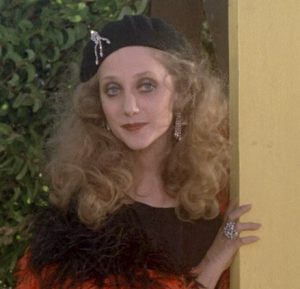 Carol Kane (b. 1952) is a comedic actress whose extensive credits include a recurring role on the television series Taxi as Simka, wife of Latka (Andy Kaufman).
Kane made a cameo appearance in The Muppet Movie as a barmaid at the El Sleezo Cafe. When Kermit says the word "myth," she appears, saying "Yeth?"
Kane appeared on Sesame Street in a 1989 episode as "Nina the Nice", the only nice person in Grouchytown. In the episode, Bob accompanies Oscar the Grouch on a trip to the hometown of Grouches. Just as Sesame Street has lots of nice people and one Grouch, Grouchytown has lots of Grouches and one nice person. Kane is exceptionally nice, and drives all of her grouchy neighbors up the wall.
Archive footage of her Sesame appearance was included in the 1994 special Sesame Street All-Star 25th Birthday: Stars and Street Forever!
External links