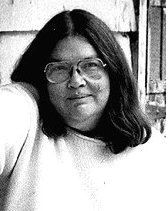 Carol Bolt (1941-2000) was a Canadian playwright who scripted the first season Fraggle Rock episode "I Don't Care," her sole contribution to the series. Bolt's best known play is the thriller One Night Stand, which was turned into a film in 1978. Her other plays included examinations of Canadian-specific motifs and political issues, such as Buffalo Jump (examining Canada during the depression era of the 1930s) and Red Emma (about radical anarchist Emma Goldman).
For television, Bolt's credits ranged from Tales of the Klondike, adapting Jack London stories, to episodes of the animated children's series The Raccoons. Her last play was Famous, produced on stage in 1997.
External links
Ad blocker interference detected!
Wikia is a free-to-use site that makes money from advertising. We have a modified experience for viewers using ad blockers

Wikia is not accessible if you've made further modifications. Remove the custom ad blocker rule(s) and the page will load as expected.