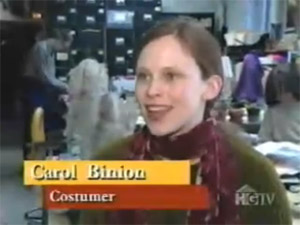 Carol Binion has worked as a puppet costumer on such productions as Sesame Street (receiving an Emmy Award nomination with the other Workshop members), Bear in the Big Blue House, and Muppets from Space, and has puppeteered on Forgetting Sarah Marshall.
Apart from the Muppets, Binion puppeteered on It's a Big Big World, Crank Yankers (also working on costume design), The Book of Pooh, and the scifi film The American Astronaut. More recently, she worked on mascot costumes for the Netflix comedy film Mascots (2016).
Muppet credits
External links
Ad blocker interference detected!
Wikia is a free-to-use site that makes money from advertising. We have a modified experience for viewers using ad blockers

Wikia is not accessible if you've made further modifications. Remove the custom ad blocker rule(s) and the page will load as expected.