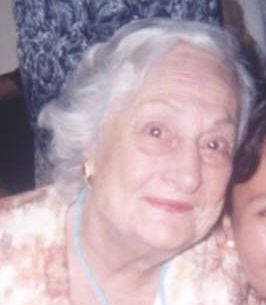 Carmen Donadio (d. 2005) was a Mexican voice actress who dubbed Ethyl Phillips on Los Dinosaurios (Dinosaurs).
A former stage actress and ballerina, Donadio specialized in dubbing matrons and grandmothers, even in her early years. From the 1950s onward, she was a staple of Disney films, playing both villainesses and motherly types: Snow White and the Seven Dwarfs (as the witch), Dumbo (as the matriarch elephant), Cinderella (as Anastasia), Alice in Wonderland (as Alice's sister and the rose), Peter Pan (as Mrs. Darling), 101 Dalmatians (as Cruela DeVil), The Jungle Book (as Winifred), and The Fox and the Hound (as Big Mama).
In live action films, Donadio usually dubbed outspoken character actresses, such as Hattie McDaniel in Gone with the Wind, Reta Shaw in Mary Poppins, Carol Kane in Addams Family Values, Kathleen Freeman in The Naked Gun 33 1/3: The Final Insult, and Mary Wickes in Little Women. TV roles included Agnes Moorehead on Bewitched, Charlotte Rae on The Facts of Life, Estelle Getty on The Golden Girls, and Liz Sheridan on ALF.