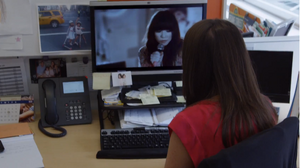 Carly Rae Jepsen is a Canadian pop singer. First achieving national notoriety as a taking third place on Canadian Idol in 2007, her song "Call Me Maybe" reached number one on the Billboard charts in 2012, sky-rocketing her to international fame. Her success is partial thanks to Justin Bieber signing her to his record label.
In July 2012, "Call Me Maybe" was parodied by Cookie Monster for a Sesame Street YouTube video, "Share It Maybe". Her original music video is shown in the Sesame Workshop-produced music video on the computer screen of someone at the Sesame Workshop offices.
External links
Ad blocker interference detected!
Wikia is a free-to-use site that makes money from advertising. We have a modified experience for viewers using ad blockers

Wikia is not accessible if you've made further modifications. Remove the custom ad blocker rule(s) and the page will load as expected.