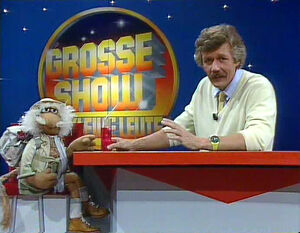 Carlo von Tiedemann (b. 1943) is a German actor and TV host.
In 1984 von Tiedemann co-hosted the children's variety show Grosse Show für kleine Leute, on which he interviewed a very thirsty Uncle Traveling Matt. In pseudo-confidentiality, the Fraggle told von Tiedemann about his visit to the city of Hamburg's red-light district St. Pauli - Reeperbahn, before promoting Die Muppets erobern Manhattan, presenting the still undubbed "I'm Gonna Always Love You." The pair could also be seen during the show's finale number, joining in song together.
Ad blocker interference detected!
Wikia is a free-to-use site that makes money from advertising. We have a modified experience for viewers using ad blockers

Wikia is not accessible if you've made further modifications. Remove the custom ad blocker rule(s) and the page will load as expected.