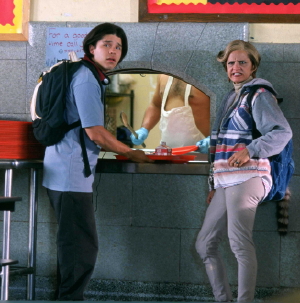 Carlo Alban (b. in Ecuador, October 3, 1979) portrayed Carlo on Sesame Street from 1993 until 1998. He also appeared in the 1996 special Elmo Saves Christmas.
Like other New York-based Sesame Street alumni, Alban has guest starred on Oz and Law and Order. He also appeared in the 2001 film Snipes and the film version of Strangers With Candy (with Amy Sedaris).
His experiences as an undocumented immigrant from Ecuador were turned into the play Intríngulis, a solo musical about "his family as it fights both personal demons and protracted economic, legal, and social battles." The family moved when he was seven, and lived a double-life for years, including on Sesame Street.[1] He appeared on radio show The Takeaway to talk about the his experiences on Sesame, on November 9, 2011.[2]
Sources
External links
Ad blocker interference detected!
Wikia is a free-to-use site that makes money from advertising. We have a modified experience for viewers using ad blockers

Wikia is not accessible if you've made further modifications. Remove the custom ad blocker rule(s) and the page will load as expected.