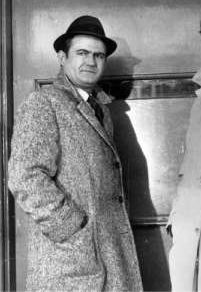 Carl Banas (b. 1929) is a successful Canadian radio announcer and voice-over artist who was the original voice of Sweetums in the 1971 TV special The Frog Prince, with Jerry Nelson in the suit. In a 2009 interview, Nelson explained that since the special was co-produced with the Canadian Broadcasting Corporation, a certain number of Canadian actors were required.[1]
Banas has also voiced characters on such popular series and specials as Rudolph, the Red-Nosed Reindeer (as the elf foreman), King Kong, Spider-Man, and the Canadian-produced Raccoons specials. Banas spent a number of years as an announcer at Toronto radio station CKFM. He co-starred with John Vernon on the detective series Wojeck, as Sergeant Byron James.
External links
Sources
Ad blocker interference detected!
Wikia is a free-to-use site that makes money from advertising. We have a modified experience for viewers using ad blockers

Wikia is not accessible if you've made further modifications. Remove the custom ad blocker rule(s) and the page will load as expected.