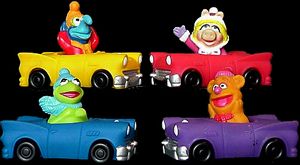 Carl's Jr. released a set of four Muppet toys in 1992.
The set, "Muppet Parade of Stars", included four Muppets sitting in cars. The Muppet characters were finger puppets that could be removed from the cars. The Muppets are all dressed for winter weather.
There was also a sack issued with this kid's meal promotion. It is of note because it features lesser seen characters such as Link Hogthrob and Dr. Julius Strangepork. But the most interesting feature is that an adult Skeeter is featured, standing beside Scooter.
The Muppet finger puppets can often be found on eBay and at flea markets without the cars.
Ad blocker interference detected!
Wikia is a free-to-use site that makes money from advertising. We have a modified experience for viewers using ad blockers

Wikia is not accessible if you've made further modifications. Remove the custom ad blocker rule(s) and the page will load as expected.