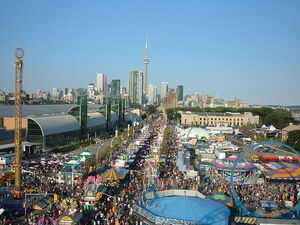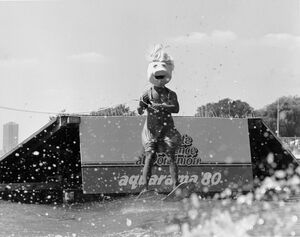 The Canadian National Exhibition is a fair held annually in Toronto, Ontario, Canada.
Appearances
On 25 August 2003, for the 125th anniversary of the event, Kevin Clash and Elmo made an appearance on stage to lead the "Largest song & dance routine at a single venue". An estimated 196,569 people participated for five minutes in "The Hokey Pokey," setting a Guinness World Record. The previous record was 7,596 children in the United Kingdom dancing to "To The Show".
The event was tied to the 2003 release of the Hokey Pokey Elmo toy.
Notes
The Aquarama touring water ski show, which stopped at the CNE multiple years, included a performer costumed as Miss Piggy. The CNE Archives showed a photo of this at their display, in the mid-2000s, showing the performer going up a ramp jump.[1] According to the Jim Henson Company in 2011, there is no records suggesting that this was a licensed show.[2]
Sources
External links
Ad blocker interference detected!
Wikia is a free-to-use site that makes money from advertising. We have a modified experience for viewers using ad blockers

Wikia is not accessible if you've made further modifications. Remove the custom ad blocker rule(s) and the page will load as expected.