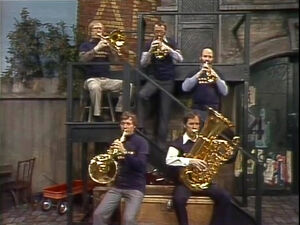 The Canadian Brass are a brass quintet founded in 1970 who have recorded dozens of albums including The Mozart Album, Ain't Misbehavin' and Other Fats Waller Hits and several Christmas albums.
They have appeared on Sesame Street in at least three segments. In one, they perform Bach's "Little Fugue in G Minor" in the Arbor. Member Fred Mills also appeared in a segment with some kids in which an Anything Muppet explains how a trumpet works. A third insert features Bob singing "Play a Simple Melody" with the group.
External links
Ad blocker interference detected!
Wikia is a free-to-use site that makes money from advertising. We have a modified experience for viewers using ad blockers

Wikia is not accessible if you've made further modifications. Remove the custom ad blocker rule(s) and the page will load as expected.