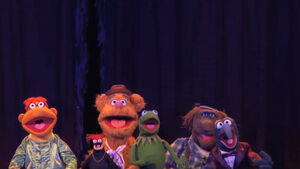 "Canada Is" is a song by Michael Mitchell that boasts the positives of Canada. The Muppets (Beauregard, Scooter, Fozzie Bear, Gonzo, and Pepe the King Prawn) performed a version of the song at the Just for Laughs festival, with new lyrics changed by Sam the Eagle, who uses facts he gathered from Americans. Kermit has them perform the actual lyrics with him in the end.
The recording of the song was repeated in the Canada Day 2017 special Just For Laughs Presents: Stand-Up On Guard For Thee.
Ad blocker interference detected!
Wikia is a free-to-use site that makes money from advertising. We have a modified experience for viewers using ad blockers

Wikia is not accessible if you've made further modifications. Remove the custom ad blocker rule(s) and the page will load as expected.