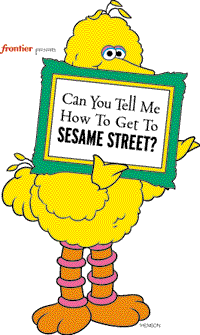 Can You Tell Me How to Get to Sesame Street? is a hands-on museum exhibit at the Strong National Museum of Play in Rochester, New York, developed in conjunction with Sesame Workshop.
Artisans worked to recreate the buildings and sets from Sesame Street, which stand alongside the original Hooper's Store and Fix-It Shop storefronts (courtesy of the Smithsonian). The life-size building fronts are accompanied by several new structures including a cobblestone bridge, playground, and several activity centers.
Life-size Muppet photo puppets fill the street set so visitors can experience Sesame Street first hand. The exhibit launched in 1997 and remains a main part of the museum to this day. The museum also prepared a smaller traveling exhibit.
Traveling Exhibit
2001: The Missouri History Museum
2003: San Jose, California
2004: Kansas City
May 8 - September 19, 2004: Bay Area Discovery Museum (San Francisco, CA)
External links