Ad blocker interference detected!
Wikia is a free-to-use site that makes money from advertising. We have a modified experience for viewers using ad blockers

Wikia is not accessible if you've made further modifications. Remove the custom ad blocker rule(s) and the page will load as expected.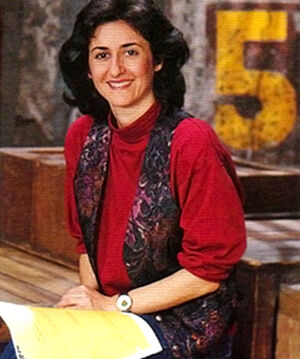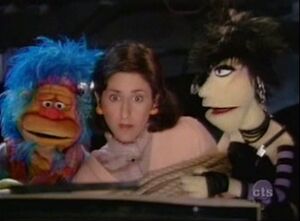 Camille Bonora worked as a Muppeteer from the mid-1980s to the mid-1990s. She is sometimes credited as Camille Kampouris.
Bonora graduated from Catholic University of America. She has appeared in a wide range of stage and broadcast productions, from improvisational comedy to advertising voiceovers. She co-wrote and performed the character of Eddie in the Christian home video series, Ben and Eddie.
After her work with the Muppets, she served on the editorial board for Kairos Journal, a Catholic publication based in Manhattan.[1]
Credits
Sesame Street: Adrienne Bip, Agnes, Alice the Actress, Annette Monster, Aunt Chloe, Britta, Bossy the Cow, Celeste, Clementine (1988-1992), Countess von Backwards (1996), Deirdre, Glo, Goldilocks (1991-1996), The Grand Royal Square Lover's Assistant, Grandma Count, One of the Grouch Explorers, Herry's Mother, Ingrid, Juliet, Lady Agatha, Lead Singer of Bruno and the Trashmen, Little Green Riding Hood, Long Jane Silver, Loretta, Meryl Sheep, Miss Marble, Miss Muffet (1989), Ms. Scarlett, Next Generation Doctor, one of Ernie's friends from "Don't Throw That Trash on the Ground", Polly Darton ("14 Carrot Love"), The Princess and the C, Ruby, Sally Soho, Spider, Stella, one of the String Beans, a tomato from "Grow High Grow Low", Umeko, Additional Muppets (1985-1996)
The Jim Henson Hour: Fern, Jojo, Miss Belle ("Dog City"), Blanche the Chameleon, Ruth the Golden Toad ("Song of the Cloud Forest"), herself
The Muppets at Walt Disney World: Yolanda Rat, Frog, Additional Muppets
Neat Stuff To Know & To Do: Kai-Lee, Mergie, herself
Elmo's Sing-Along Guessing Game: The director
Sources