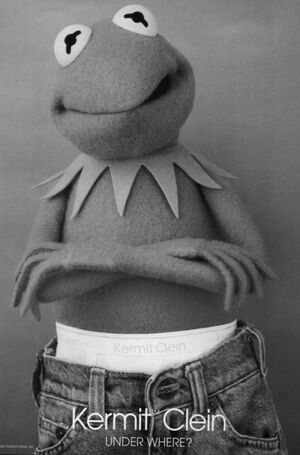 Calvin Klein (b.1942) is an American fashion designer who launched Calvin Klein Inc., which today produces jeans, kids clothing, underwear, swim-wear, sleepwear, hosiery and socks, watches, fragrance, eye-wear and home lines/collections.
References
Their advertisements have been given the Muppet treatment multiple times for calendars and posters. Kermit has posed as Marky Mark in a spoof of one of the most famous ads for Calvin Klein. Kermit and Miss Piggy also spoofed the fragrance line of Calvin Klein with a "No Escape" ad.
Connections
External links
Ad blocker interference detected!
Wikia is a free-to-use site that makes money from advertising. We have a modified experience for viewers using ad blockers

Wikia is not accessible if you've made further modifications. Remove the custom ad blocker rule(s) and the page will load as expected.