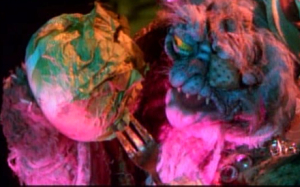 Cabby is an aging head of cabbage who appeared in the Dinosaurs episode "When Food Goes Bad." Although seemingly inanimate, Cabby is General Chow's best friend and confidant. He comes to a tragic end when Robbie Sinclair knocks him to the ceiling, reducing Cabby to a shower of salad fixings.
See also
Ad blocker interference detected!
Wikia is a free-to-use site that makes money from advertising. We have a modified experience for viewers using ad blockers

Wikia is not accessible if you've made further modifications. Remove the custom ad blocker rule(s) and the page will load as expected.