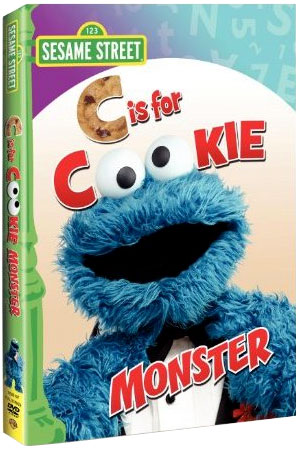 | | |
| --- | --- |
| Release Date | October 19, 2010 |
| Produced by | Warner Home Video |
| Catalogue no. | SS00197 |
| Format | DVD |
| Discs | 1 |
| Region | 1 |
| ASIN | |
C is for Cookie Monster is a Sesame Street DVD all about Cookie Monster, released on October 19, 2010. The DVD includes linking footage of Cookie Monster reading fan mail, as well as stories and songs. The song "Gingerbread Man" is included as a bonus feature.
The video was directed by Kevin Clash and written by Christine Ferraro. Some of Cookie's dialogue was translated into several social network videos.
International releases
Image
Segment
Description

FRAME 1
Today, Cookie Monster is taking time from his busy schedule to answer fan mail. The first letter asks why he's named "Cookie Monster." He explains it's not because he likes cookies, it's because he loves cookies!

Muppets
Cookie Monster sings "Eating Cookie" -- there's another reason every season.
(EKA: Episode 3506)

Street Story
"The Cookie Hood Story"

FRAME 2
The next letter asks Cookie Monster about his diet. Despite his name, he makes room in his day for other healthy foods (but with plenty of cookies for dessert).

Muppets
Hoots sings "A Cookie is a Sometime Food" to Cookie Monster.
(First: Episode 4089)

Celebrity / Muppets
Matt Lauer interviews Cookie Monster and inquires into why he has stopped eating cookies. He maintains that while he does like fruit, he still likes cookies as well.
(First: Episode 4115)

Song
Cookie Monster sings "Food" over footage of kids eating.
(First: Episode 4059)

Muppets
Cookie Monster discovers Cousin Monster doesn't want cookies and would rather eat Ernie's healthy food.
(EKA: Episode 1458)

FRAME 3
Cookie next reads a letter about his favorite way of eating a cookie. He happens to have one handy and demonstrates his patented method.

Street Story
"The Cookie Tree" (beginning edited)

FRAME 4
Now done eating, Cookie shows how to remove crumbs from your fur using a very powerful hairdryer.

Muppets
Cookie Monster and Herry Monster sing "Up and Down."
(First: Episode 3532)

Muppets
Cookie Monster sings "If Moon Was Cookie."
(EKA: Episode 2619)

FRAME 5
Cookie reads another letter about his favorite cookies. He says he enjoys reading letters, but has a personal favorite one...




Montage
"C is for Cookie" Mash-Up: All three versions are played to make one complete version.

Muppets
Monsterpiece Theater
Cookie Monster is the star of an adaptation of Little Red Riding Hood, in which he eats all the cookies before he gets to his grandma's house. (new music added)
(EKA: Episode 3231)

FRAME 6
Now, Cookie Monster checks fan emails via his Me-Phone. One asks how long has he loved cookies. He begins flashing back to wild times in the mid 70's...

Muppets
"Me Lost Me Cookie" at the disco (ending edited)
(EKA: Episode 2680)

Muppets
Cookie Monster sings "Cookie Disco."
(EKA: Episode 1093)

FRAME 7
Time has run out and Cookie thanks the viewers for their mail. With no cookies and a growing appetite, he begins devouring the rest of the letters.

Song
Cookie Monster sings "What is Friend?" against a clip montage of kids.
(EKA: Episode 3886)
Played during the credits
Trailer
Ad blocker interference detected!
Wikia is a free-to-use site that makes money from advertising. We have a modified experience for viewers using ad blockers

Wikia is not accessible if you've made further modifications. Remove the custom ad blocker rule(s) and the page will load as expected.