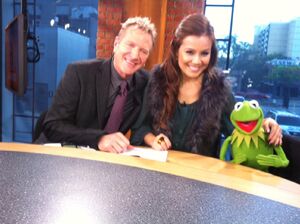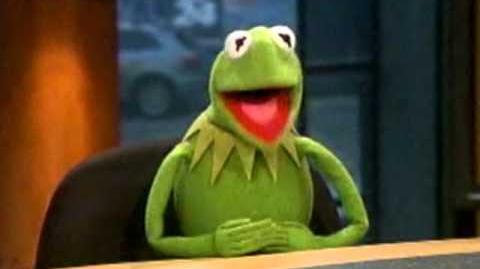 CP24 Breakfast is the morning show on Toronto, Ontario, Canada's local all-news channel CP24, hosted by Steve Anthony and Melissa Grelo.
Kermit, 2011
On October 25, 2011, Kermit the Frog "co-hosted" the program, in actuality just an extended interview segment. During the appearance, he announced that the Muppets would have a float in the 2011 Toronto Santa Claus Parade.
Previous "guest co-hosts" have included Donny Osmond.
Competing program Breakfast Television, on Citytv, interviewed Jason Segel on the same day.
Kermit thanked hosts Steve and Melissa by name at the end of the interview, which coincidentally are also the names of the man behind the frog and his wife.
Miss Piggy, 2014
Miss Piggy appeared in promotion of Muppets Most Wanted.
Related appearances
Ad blocker interference detected!
Wikia is a free-to-use site that makes money from advertising. We have a modified experience for viewers using ad blockers

Wikia is not accessible if you've made further modifications. Remove the custom ad blocker rule(s) and the page will load as expected.