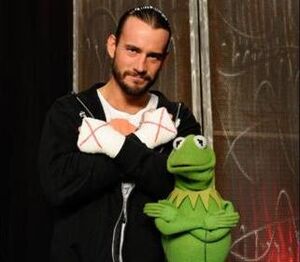 CM Punk (born Phillip Jack Brooks, 1978) is an American wrestler formerly signed to the WWE. A six-time world champion, he is only one of two wrestlers to have held all three of WWE's world titles.
Punk was part of the Halloween episode of WWE Raw in 2011, where the Muppets appeared to promote their upcoming film, The Muppets.
External links
Ad blocker interference detected!
Wikia is a free-to-use site that makes money from advertising. We have a modified experience for viewers using ad blockers

Wikia is not accessible if you've made further modifications. Remove the custom ad blocker rule(s) and the page will load as expected.