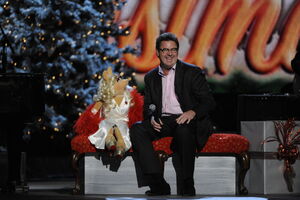 CMA Country Christmas is a TV special which aired on December 1, 2011 on ABC.
Miss Piggy performed "Baby, It's Cold Outside" with Vince Gill. The appearance was filmed at the Bridgestone Arena in downtown Nashville, Tennessee, on November 10, 2011.
Piggy also appeared in an interview segment for the Country Music Association's YouTube channel. (YouTube)
Ad blocker interference detected!
Wikia is a free-to-use site that makes money from advertising. We have a modified experience for viewers using ad blockers

Wikia is not accessible if you've made further modifications. Remove the custom ad blocker rule(s) and the page will load as expected.