Ad blocker interference detected!
Wikia is a free-to-use site that makes money from advertising. We have a modified experience for viewers using ad blockers

Wikia is not accessible if you've made further modifications. Remove the custom ad blocker rule(s) and the page will load as expected.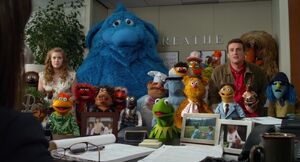 CDE is a television network in the 2011 film The Muppets. When the Muppet gang comes back together, they pitch their idea for a telethon to the network executive, Veronica. She deems the Muppets as out of fashion in comparison to the channel's hit program Punch Teacher. However, after the show's sudden cancellation due to teacher complaints, she decides to let the Muppets fill the void on the condition that they get a celebrity host for their telethon.
According to the network's prime time schedule, shows on the network include: "The Bachelor Set," "Ker-Pow," "5th Ward Precinct Live," "Credit Card Club," "Different Families," In the Middle," "Grown Men," "Up Beat," "Nora & Nora," "Albany," "Twentyfourseven," "Have Camera, Will Travel," "That's Not My House!," "Estates," and "Scandals."
Prime-Time Schedule
Monday | Tuesday | Wednesday | Thursday | Friday | Saturday | Sunday
Monday
Tuesday
Network
8:00
8:30
9:00
9:30
10:00
10:30
CDE
Ker-Pow
5th Ward Precinct Live
Credit Card Club
CBS
NICS
NICS: CA
Standing Firm
NBC
Weight Losers
Broadway or Bust
It's the Law
FOX
Chef vs Chef vs Chef
Chef vs Chef vs Chef
 
CW
Where We Live
Unexpected Love
 
Wednesday
Network
8:00
8:30
9:00
9:30
10:00
10:30
CDE
Different Families
In The Middle
Different Families
Grown Men
Up Beat
CBS
Back in Business
Dr. Detective
Lawyer with a Baby
Ghost Cop
NBC
Broadway or Bust
Broadway or Bust (R)
It's the Law: CVS
FOX
Dance, Dance, Dance (R)
One, Two, and a Three
 
CW
Too Skinny, Me?
Stay Young Forever
Celebrity Manhunt
 
Thursday
Network
8:00
8:30
9:00
9:30
10:00
10:30
CDE
Nora & Nora
Drama (R)
Drama (R)
CBS
Man vs Nature
Evidence or Proof
The Numismatist
NBC
Home Sweet Home
Show Me The Question
Working Blues
Behind the Dreams
Working Blues (R)
Municipal Mom
FOX
Dance, Dance, Dance
 
CW
Vampires and Me
Midnights
 
Friday
Network
8:00
8:30
9:00
9:30
10:00
10:30
CDE
Albany
Twentyforseven
Twentyforseven (R)
CBS
Ghosts in the Machine
Pointflash
Houston Hospital
NBC
USA at Work and Play
Deadline
 
FOX
Drones
Detective Doctor
 
CW
Where's the Shoe?
Too Skinny, Me? (R)
 
Saturday
Sunday