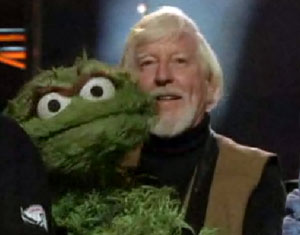 CBS Sunday Morning is a weekly news magazine program airing on CBS since 1979.
On August 2, 2009, the program featured a backstage report on Pete Seeger's 90th Birthday Celebration from Madison Square Garden, The Clearwater Concert: Creating the Next Generation of Environmental Leaders, which had aired a few days earlier as part of the Great Performances anthology on PBS.
In a brief backstage interview with celebrity guest Oscar the Grouch, he was asked by CBS News correspondent Anthony Mason whether he felt like he had to be there, to which the grouch responded "Oh, yeah, I had to be here. I wanted to wish him a rotten birthday!" Oscar went on to recount a few celebrities also attending, including "There are a lot of singers here... I've heard some... some guy named Springsteen".
The piece also featured a clip of Seeger performing on Sesame Street.
Mo Rocca went to the set of Sesame Street in 2014, learning how to do camera puppetry with Martin P. Robinson and puppet captain Matt Vogel. Rocca performed the right hand of Horatio the Elephant in a segment filmed on green screen.
External links