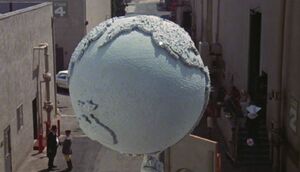 CBS Studio Center, used for television and film shooting and owned (as the name implies) by CBS, took on the character role of World Wide Studios in The Muppet Movie. While the front entrance was added, the various stages were used in their standard states. Stage 15 specifically was used as the sound stage utilized by the Muppets for the "Rainbow Connection" finale.[1]
The studio's Hollywood history is varied, beginning as Mack Sennett's studio in the talkie-era, then used for Mascot Pictures and its successor, Republic Pictures. CBS began leasing the lot in the 1960s, for filming Gunsmoke, Gilligan's Island, and other programs requiring filmed footage or settings. The network bought the studio outright in 1967 and continued to use it for The Mary Tyler Moore Show and its spinoffs. More recent programs shot there include Big Brother and Entertainment Tonight.
Sources
↑ Jones, Brian Jay. Jim Henson: The Biography. pg. 288
External links
Ad blocker interference detected!
Wikia is a free-to-use site that makes money from advertising. We have a modified experience for viewers using ad blockers

Wikia is not accessible if you've made further modifications. Remove the custom ad blocker rule(s) and the page will load as expected.