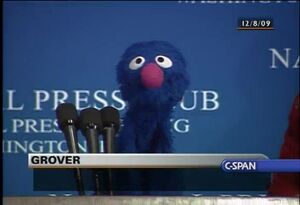 C-SPAN is a cable network focusing on US Government programming.
Appearances
Notes
There have been many mentions of Sesame Street in other broadcasts, including by President Barack Obama in introducing Yo Yo Ma during the Kennedy Centre Honourees Reception, clips of the 2012 Presidential election campaigning, at the US House of Representatives (in relation to the Sesame Street Live USO show), hearings with the Federal Communications Committee, et cetera.
Ad blocker interference detected!
Wikia is a free-to-use site that makes money from advertising. We have a modified experience for viewers using ad blockers

Wikia is not accessible if you've made further modifications. Remove the custom ad blocker rule(s) and the page will load as expected.