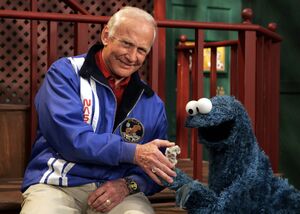 Buzz Aldrin (b. 1930) is an American pilot and astronaut who was the Lunar Module Pilot on Apollo 11, the first lunar landing. He became the second human to set foot on the Moon.
Aldrin appeared in a 2005 episode of Sesame Street, where he explained to Cookie Monster that the moon is made out of rock, and is not a cookie. He also appeared in a Healthy Moment with Telly. Telly dresses himself in an astronaut's helmet, and comments that he's running low on energy. Buzz Aldrin suggests that all he needs to do is eat some food.
References
Big Bird and a child were inserted into footage of Aldrin and Armstrong planting the American flag on the moon for a 2000s PBS Interstitial.
Ad blocker interference detected!
Wikia is a free-to-use site that makes money from advertising. We have a modified experience for viewers using ad blockers

Wikia is not accessible if you've made further modifications. Remove the custom ad blocker rule(s) and the page will load as expected.