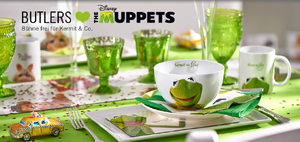 Butlers is a German store chain based in Cologne, selling home accessories, furniture, decorations and gifts in over 160 stores throughout Europe; mainly in Germany, Austria, the United Kingdom and Spain.
Beginning in 2013, Butlers made use of their Disney license (billed as "Butlers ♥ Disney") in order to add Muppet merchandise ("Butlers ♥ The Muppets") to their assortment in the form of greeting cards. In 2014, a line of housewares followed to promote Muppets Most Wanted throughout their European locations.
Muppet Christmas cards (2013)
Muppets Most Wanted promotion (2014)
2015
See also
External links
Ad blocker interference detected!
Wikia is a free-to-use site that makes money from advertising. We have a modified experience for viewers using ad blockers

Wikia is not accessible if you've made further modifications. Remove the custom ad blocker rule(s) and the page will load as expected.