PERFORMER
various
DEBUT
1979
DESIGN
Ed Christie designer/builder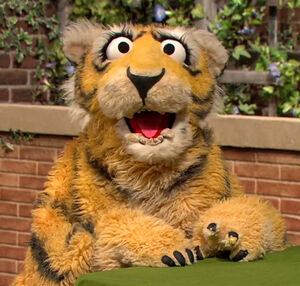 Butch is a Bengal tiger who made various appearances on Sesame Street. He was the first Muppet designed and built by Ed Christie, and originally appeared as a saber-toothed tiger (performed by Brian Muehl) in the "Toothbrush" sketch of the Caveman Days series. The puppet was also used on The Muppet Show, starting in season 4.
The tiger was named onscreen in episode 416 (performed by Jim Henson), when he teamed up with a lion as "Butch and Sundance", running away from an animal training act. (This is a reference to the 1969 film, Butch Cassidy and the Sundance Kid.)
Like his early Sesame appearances, he was also used as a saber-toothed tiger on The Muppet Show, in episodes 513 and 516.
Butch was later seen as an audience member on Muppets Tonight. He was later reworked as Mrs. Tiger for Mopatop's Shop.
A modified version of the puppet appeared as Tungar the Tiger on Panwapa, and has continued to be used on Sesame Street (performed in most recent instances by Matt Vogel).
Filmography
Ad blocker interference detected!
Wikia is a free-to-use site that makes money from advertising. We have a modified experience for viewers using ad blockers

Wikia is not accessible if you've made further modifications. Remove the custom ad blocker rule(s) and the page will load as expected.