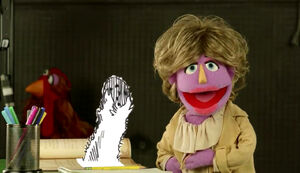 Bunty Bailey (b. 1963) is a model, dancer, and actress, best known for her role in a-ha's 1985 music video for their song "Take On Me."
The music video was spoofed in a 2017 Sesame Street viral video, "Sesame Street Presents the 80s." A Muppet caricature of Bailey is seen milling around backstage of the Sesame Street Glee Club, when she enters a rotoscoped, sketch-pad world, with Cookie Monster singing a spoof of "Take On Me."
Ad blocker interference detected!
Wikia is a free-to-use site that makes money from advertising. We have a modified experience for viewers using ad blockers

Wikia is not accessible if you've made further modifications. Remove the custom ad blocker rule(s) and the page will load as expected.