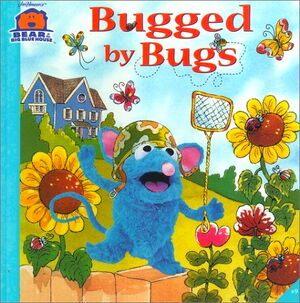 Tutter finds himself having a "bad bug day." It all starts when he's out in his garden and Ojo warns him about a bee. Bear helps sooth Ojo's fears, but Tutter doesn't want anything to do with bugs. They're big and scary and they eat all his food. Then he begins to find that some bugs are actually quite nice after meeting a friendly bug named Bertha, and after watching a Butterfly climb out of its cocoon.
This book combines original illustrations with photos of the characters from the show. It also combines story elements from two episodes of the program.
Characters
Tutter, Ojo, Bear, Bertha, Treelo, and Pip and Pop
Ad blocker interference detected!
Wikia is a free-to-use site that makes money from advertising. We have a modified experience for viewers using ad blockers

Wikia is not accessible if you've made further modifications. Remove the custom ad blocker rule(s) and the page will load as expected.