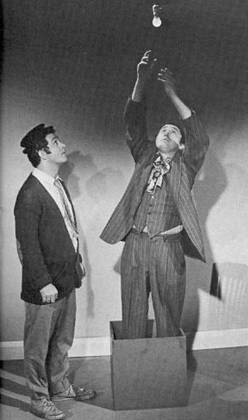 Buddy and Jim were a human comedy duo who appeared on Sesame Street during the first season. The bungling pair were featured in filmed inserts, and failed at such tasks as hanging a picture and making a sandwich. The sketches featured theme music by Joe Raposo. While usually only appearing in their own sketches, they are often mentioned by the adults before their segments start. Buddy also appeared without Jim in a song with the Anything Muppets, called "Before and After". (First: Episode 0047)
As described by Stefan Kanfer in a Nov. 23, 1970 TIME article, "In its first series, Sesame Street used two clowns, Buddy and Jim, to illustrate problem solving. They were a walking Polish joke, one lifting and turning the other to screw in a light bulb, refusing a nail because it was turned the wrong way."
They were replaced in Season 2 by another comedy team, Larry and Phyllis, who were in turn succeeded by Wally and Ralph in Season 3.
Sketches
Ad blocker interference detected!
Wikia is a free-to-use site that makes money from advertising. We have a modified experience for viewers using ad blockers

Wikia is not accessible if you've made further modifications. Remove the custom ad blocker rule(s) and the page will load as expected.