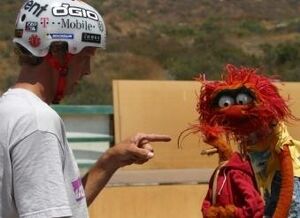 Bucky Lasek (b. 1972) is a professional skateboarder who has won five gold medals at the X Games. Lasek is regarded as one of the most consistent vert skaterboarders in the sport. Some of his signature contest tricks include the Heelflip Frontside Gay Twist and Switch Frontside 540.
In 2005, Lasek appeared with Animal and Pepe the King Prawn on a special episode of ESPN2's All Access that promoted the upcoming X Games 11.
Ad blocker interference detected!
Wikia is a free-to-use site that makes money from advertising. We have a modified experience for viewers using ad blockers

Wikia is not accessible if you've made further modifications. Remove the custom ad blocker rule(s) and the page will load as expected.