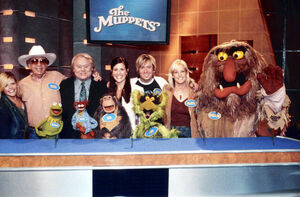 Buck Owens (born Alvis Edgar Owens, Jr., 1929-2006) was an American singer, best remembered by many as co-host of Hee Haw along with Roy Clark. Owens had 21 number one hits on the Billboard country music charts.
One of Owens' signature songs, "Act Naturally", has been performed by Gonzo on The Muppet Show and by Floyd Pepper and Janice in the 1979 special The Muppets Go to the Movies.
Buck Owens appeared with the Muppets, the Dixie Chicks, and Keith Urban on a celebrity version of Family Feud.
External links
Ad blocker interference detected!
Wikia is a free-to-use site that makes money from advertising. We have a modified experience for viewers using ad blockers

Wikia is not accessible if you've made further modifications. Remove the custom ad blocker rule(s) and the page will load as expected.