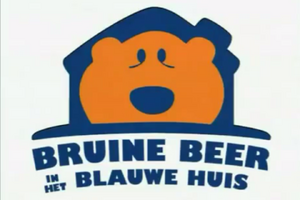 Bruine Beer in het Blauwe Huis (Brown Bear in the Blue House) was the Dutch dub for Bear in the Big Blue House. It aired on KRO from 2000 to 2004. Various episodes were released on DVD and VHS by Bridge Entertainment (usually three episodes per disc).
A difference with the American episodes is that at the beginning, the episode title is read out loud by one of the characters. For example, the episode Lost Thing was introduced by one of the otters: "Lost Thing - oops! Almost lost my voice!"
Voice Actors
Ad blocker interference detected!
Wikia is a free-to-use site that makes money from advertising. We have a modified experience for viewers using ad blockers

Wikia is not accessible if you've made further modifications. Remove the custom ad blocker rule(s) and the page will load as expected.