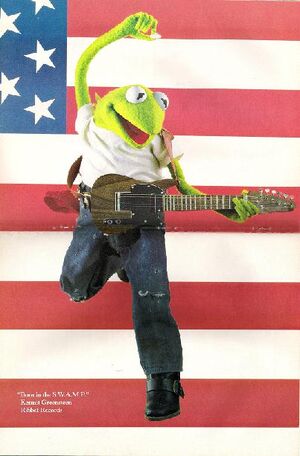 Bruce Springsteen (b. 1949) is an American Rock star best known for his rock anthem "Born in the U.S.A.".
He has been spoofed many times by the Muppets, including an appearance by Kermit as Kermit Greenstreen in the Summer 1985 issue of Muppet Magazine, and again as Kermit Greenstein singing "Spawned in the U.S.A. in the 1993 Muppet Trading Cards set.
Springsteen's song "Dancing in the Dark" was turned into a music video spoof in episode 211 of Muppets Tonight and the Sesame Street character Bruce Stringbean sings several spoofs of Springsteen's songs, including "Barn in the USA" and "Born to Add". The cover of Born to Add was also a parody of Springsteen's "Born to Run" album cover.
The coloring book Great Muppets in American History also features Kermit once again as Springsteen, and Floyd's Record Rap in the Fall 1986 issue of Muppet Magazine covers one of Springsteen's albums.
In 2011, H&M offered a t-shirt with the Kermit Greenstreen image from Muppet Magazine.
External links
Ad blocker interference detected!
Wikia is a free-to-use site that makes money from advertising. We have a modified experience for viewers using ad blockers

Wikia is not accessible if you've made further modifications. Remove the custom ad blocker rule(s) and the page will load as expected.