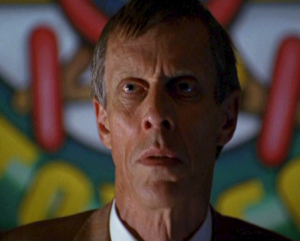 Bruce Spence (b. 1945) is an Australia based, New Zealand-born character actor who has appeared in several high-profile American films, particularly in the science fiction and fantasy genres. For Jim Henson's Creature Shop, Spence played Prefect Faalak in the fourth season Farscape episode "A Prefect Murder." In 2006, he appeared in "Battleground," the premiere episode of Nightmares & Dreamscapes, directed by Brian Henson; Spence played Hans Morris, the international toy manufacturer assassinated by hitman Renshaw (William Hurt),
Spence first came to international attention as the Gyro Captain in Mel Gibson's Mad Max 2: The Road Warrior, and returned as Jedediah the pilot in Mad Max Beyond Thunderdome. Subsequent credits included Ace Ventura: When Nature Calls (with Jim Carrey), Dark City (as the villainous Mr. Wall, with William Hurt and Jennifer Connelly), and Queen of the Damned. In the past few years, he has had notable roles in the blockbusters The Matrix Revolutions (as the trainman), Pixar's Finding Nemo (as the voice of Chum), The Lord of the Rings: The Return of the King (as the mouth of Sauron), and Star Wars Episode II: Revenge of the Sith (as Tion Medon).
External links
Ad blocker interference detected!
Wikia is a free-to-use site that makes money from advertising. We have a modified experience for viewers using ad blockers

Wikia is not accessible if you've made further modifications. Remove the custom ad blocker rule(s) and the page will load as expected.