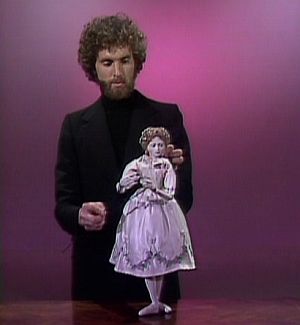 Bruce Schwartz, also known as Bruce D. Schwartz, is a puppeteer and sculptor who was featured on The Muppet Show, performing his own puppet segments in episode 216 and episode 508.
Schwartz also served as an additional puppeteer on The Muppet Movie and was the focus of one of Jim Henson's The World of Puppetry specials. Schwartz performed extensively on stage in the 1980s, using a bunraku style to present elaborate, Elizabethan-style dramas such as She Moved Through the Fair. He performed with handpuppets in such Portable Puppet Show productions as The Rat of Huge Proportions. His work is featured in the Jim Henson documentary, Here Come the Puppets.
Ad blocker interference detected!
Wikia is a free-to-use site that makes money from advertising. We have a modified experience for viewers using ad blockers

Wikia is not accessible if you've made further modifications. Remove the custom ad blocker rule(s) and the page will load as expected.