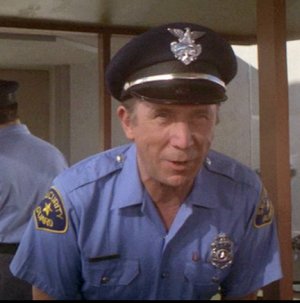 Bruce Kirby (b. 1928) is a television and film character actor, and the father of actor Bruno Kirby. He appeared as the World Wide Studios gate guard at the beginning of The Muppet Movie.
Kirby's career, which has spanned five decades, includes a regular stint on Car 54, Where Are You (as filing clerk Officer Kissel), appearances on Bonanza, The Patty Duke Show, Barney Miller, M*A*S*H, The West Wing, The Sopranos, Scrubs, and the recurring role of Sgt. Kramer in multiple Columbo installments. Film credits include Catch-22, How to Frame a Figg (with Don Knotts), Stand By Me, and the Academy Award winning film Crash (as Matt Dillon's father).
External links
Ad blocker interference detected!
Wikia is a free-to-use site that makes money from advertising. We have a modified experience for viewers using ad blockers

Wikia is not accessible if you've made further modifications. Remove the custom ad blocker rule(s) and the page will load as expected.