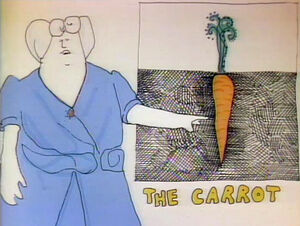 Bruce Cayard, full name Bruce Sommers Cayard, designed and produced many classic animated segments for Sesame Street and The Electric Company, beginning in the early 1970s and continuing as late as 1999. Cayard's work had a distinctive cartoonish style, though the actual animation was generally in the hands of others, including John Canemaker for the early shorts and, for the later pixelated segments, ArtistMike. These later pieces were animated on an Amiga computer, but still reflected Cayard's sketchy design style. Cayard also produced animated openings and segments for Bob Keeshan's Captain Kangaroo.
Sesame Filmography
External links
Ad blocker interference detected!
Wikia is a free-to-use site that makes money from advertising. We have a modified experience for viewers using ad blockers

Wikia is not accessible if you've made further modifications. Remove the custom ad blocker rule(s) and the page will load as expected.