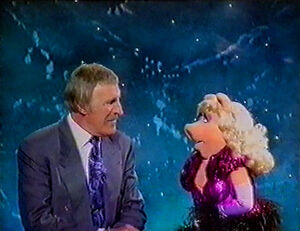 Bruce's Guest Night was a BBC talk/variety show hosted by Bruce Forsyth which ran from 1992 until 1993. On the May 17, 1993 broadcast, Frank Oz and Miss Piggy were the guests, as was Luther Vandross.
Host Forsyth and Miss Piggy sang "Let There Be Love," reprising their duet from Forsyth's episode of The Muppet Show.
Ad blocker interference detected!
Wikia is a free-to-use site that makes money from advertising. We have a modified experience for viewers using ad blockers

Wikia is not accessible if you've made further modifications. Remove the custom ad blocker rule(s) and the page will load as expected.