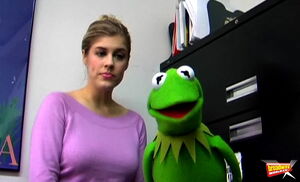 Broadway World TV interviewed Kermit the Frog in November 2008. Special Correspondent Liz Maurer talked with Kermit about his then-upcoming performance of "I Believe in Santa Claus" in the 82nd Annual Macy's Thanksgiving Day Parade, going out for Thai food, A Muppets Christmas: Letters to Santa television special, the Macy's Thanksgiving Day Parade's giant Kermit balloon, Kermit's star on the Hollywood Walk of Fame, Kermit's plans to return to the swamp for the holidays, and much more.
External links
Ad blocker interference detected!
Wikia is a free-to-use site that makes money from advertising. We have a modified experience for viewers using ad blockers

Wikia is not accessible if you've made further modifications. Remove the custom ad blocker rule(s) and the page will load as expected.