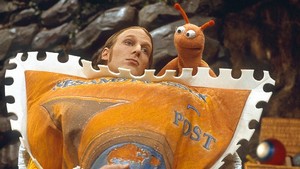 The Briefmarke (postal stamp) appeared in the Sesamstrasse episode 2227. It's the stamp that was on a letter that Finchen wanted to send to Ella. The stamp asked Finchen for help to prepare for the journey he was about to go on to bring the letter to Helgoland, a small island off the coast of Germany, where Ella was on vacation.
See also
Ad blocker interference detected!
Wikia is a free-to-use site that makes money from advertising. We have a modified experience for viewers using ad blockers

Wikia is not accessible if you've made further modifications. Remove the custom ad blocker rule(s) and the page will load as expected.