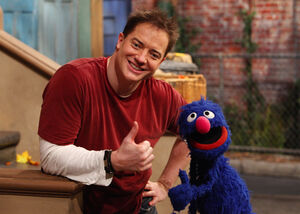 Brendan Fraser (b. 1968) is an actor who played the title role in the 1997 film George of the Jungle, with animatronic effects by Jim Henson's Creature Shop.
Fraser's film career as a leading man has combined broad comedies with action films and more subtle dramas. His credits include Looney Tunes: Back in Action, Encino Man , Blast from the Past (with Alicia Silverstone) , The Mummy, Mrs. Winterbourne, Gods and Monsters, and The Quiet American.
He also appears in the 40th season of Sesame Street, explaining the word "speedy" with Grover. He also made a cameo in the song "Set Your Piggies Free."
External links
Ad blocker interference detected!
Wikia is a free-to-use site that makes money from advertising. We have a modified experience for viewers using ad blockers

Wikia is not accessible if you've made further modifications. Remove the custom ad blocker rule(s) and the page will load as expected.