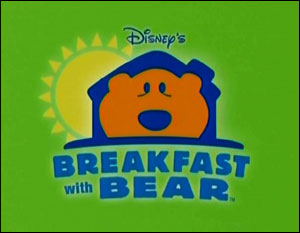 Breakfast with Bear was a series that aired as part of Disney Channel's Playhouse Disney block starring Bear, of Bear in the Big Blue House fame. The one-hour programming block housed several other Disney Channel short series.
In each episode Bear would visit a different home and follow one child's morning ritual - often beginning with a surprise wake-up call from Bear and finishing with Bear and his new friend enjoying breakfast or heading out to school. Throughout the morning - between aiding the child with their daily preporations, hygienical needs, games, songs, breakfast and other daily traditions - Bear would introduce and show segments from other Disney Channel short series - including segments from Charlie and Lola, Shanna's Show, Shane's Kindergarten Countdown, Captain Carlos, This is Daniel Cook, Dan Zane's House Party and Rolie Polie Olie.
Since the other show segments featured in the block would vary from 20, 11 and 5 minutes in length, the framing sequences of the hour-long Breakfast with Bear block totaled between 15 to 20 minutes per episode.
The show premiered on June 20, 2005, airing on weekdays until September 15, 2006. Breakfast with Bear is no longer part of the Playhouse Disney lineup, as the network makes room for weekday airings of two newer full-block series to take its place.
Five original songs from the series were released on a Playhouse Disney CD in October 2005.
Episodes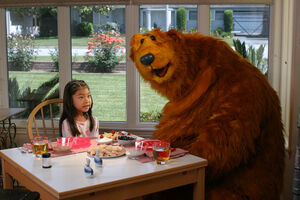 Kayla of Poughkeepsie, NY
Christopher of New York City's "Big Apple Circus"
Brittany of Bronx NY
Paige of Elmont, NY
Abigail of Westport, CT
Ryan of Granada Hills, CA
Amanda of Oxnard, CA
Rachel of San Marino, CA
Giavanna of West Hills, CA
Noah of Northridge, CA
Rachel of Cypress, CA
Mackenzie of Fallbrook, CA
Jonathan at Fort Irwin National Training Center (U.S. Army Base near Barstow, CA)
Credits
Sources
External links
Ad blocker interference detected!
Wikia is a free-to-use site that makes money from advertising. We have a modified experience for viewers using ad blockers

Wikia is not accessible if you've made further modifications. Remove the custom ad blocker rule(s) and the page will load as expected.